Good morning, everyone. During the last week, I immersed myself in writing Eazy Loving, the sequel to PHATT Farm. My creative marathon happened at the expense of the dishes, the laundry, and a few of the meals. My husband brought dinner home with him, and kept things rolling. That's my version of romance. 😀
Find more Weekend Writing Warriors  here.
           And check here for  Snippet Sunday Facebook writers.
Today, I'm skipping forward a bit but continuiing last week's scene from  PHATT Farm. (Creative punctuation to make this fit.)
As Gerta lapped at her water enthusiastically, I mopped my face with my napkin, nibbled the crescent, and tried to decide if I'd perspired enough to get into my dress. Maybe I'd jog on a shady path through the park on my way home; I just needed to get started.

I half-watched a guy walking up the grassy slope dividing the sidewalk from the patio where I sat. I'd already decided to leave, so I stood, disinterested in sharing the outdoor space. When Gerta growled an alert, I did a full turn and stared at a gun pointed in my direction.

Nothing went through my head–no recap of my life–nothing. Gerta snarled and lunged, unfreezing me; but, before I could reach my phone, call 911, or even yell, the shooter discharged two bullets into my chest.

I staggered backward, knocking the table over as I fell. The metal chair I'd attached to Gerta's leash, crashed to the stone patio floor and bounced behind my monster dog as she chased my attacker down the grassy slope to the sidewalk. I had enough sense left in me to see that at any moment he'd turn and…

"Gerta, return…" I wheezed, hoping she'd hear my strangled command.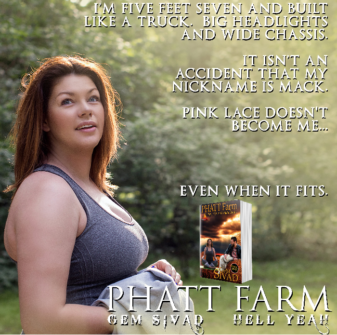 BLURB: FBI agent Mackenzie Sierra Scott grimly anticipates six weeks of mindless boredom as she and her dog travel to Phatt Farm. Not realizing the full extent of her aversion toward dieting, her handler has stashed her at an off-the-grid weight loss center. Until she testifies at the trial of a killer, she'll be in-hiding, one healthnut among many.
Upon meeting resident farmer, Eazy Phatt, Mack thinks of many ways they can burn calories together. And from his immediate attention, she knows he feels the attraction too. When Eazy invites her to help him with farm work as an alternative to a daily regime of yoga and pushups, she accepts, picturing hours of gratuitous sex.
Hot body aside, there's nothing easy about Eazy. Instead of becoming her lover, he turns Mack into a farmhand, keeping her busy driving tractor, stacking hay, picking apples, shucking corn, and somewhere along the way, falling in love. And that all happens before the shooting starts.