Happy June, everyone! It's sneezing season. I've missed being here, but life intervened again… And still, I return the moment I get a chance because I enjoy Sundays with you.
Find more Weekend Writing Warriors  here.
           And check here for  Snippet Sunday Facebook writers.
Today, I'm sharing a snippet from my latest Smoke, Inc. title, PHATT Farm.
"Mackie, can you hear me?" My sister's voice was not the sound I wanted to hear this early in the morning. As soon as I saw her number, I considered dropping the phone.

"Not very well," I lied, "horrible connection." I jogged down the street, doing my best to lose the call by waving my cellphone in the air and shouting, "What's up?"

"Did you pick up your dress?  Does it fit?"

Apparently, I couldn't run and think simultaneously. My slow jog became more like a shuffle, and I finally stopped completely, leaning against the building next to me, while I considered the two-part question. There was wiggle room to be found here.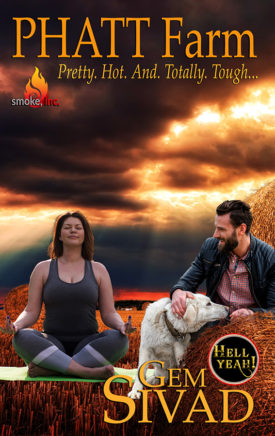 BLURB: FBI agent Mackenzie Sierra Scott grimly anticipates six weeks of mindless boredom as she and her dog travel to Phatt Farm. Not realizing the full extent of her aversion toward dieting, her handler has stashed her at an off-the-grid weight loss center. Until she testifies at the trial of a killer, she'll be in-hiding, one healthnut among many.
Upon meeting resident farmer, Eazy Phatt, Mack thinks of many ways they can burn calories together. And from his immediate attention, she knows he feels the attraction too. When Eazy invites her to help him with farm work as an alternative to a daily regime of yoga and pushups, she accepts, picturing hours of gratuitous sex.
Hot body aside, there's nothing easy about Eazy. Instead of becoming her lover, he turns Mack into a farmhand, keeping her busy driving tractor, stacking hay, picking apples, shucking corn, and somewhere along the way, falling in love. And that all happens before the shooting starts.