Wolf's Tender
Eclipse Heat
5 Hearts
Ms. Gem Sivad has, once again, mesmerized me with her writing abilities. The ending was totally unexpected. The action was nonstop and captivating. The sensuality was through the roof…I highly recommend this to anyone who enjoys historical romance with a lot of drama.
Brenda, The Romance Studio Reviews
5 Stars
Ms. Sivad provided a great landscape, awesome characters, a plot with lots of substance, and best of all outstanding sex…The sparks that fly between Naomi and Wolf start from their first meeting and never stop…
-L.T. Blue, Just Erotic Romance Reviews
4 Hearts …an erotically charged tale…The characters in this book are an unlikely pair for sure. The sparks these two incredibly different yet similarly determined and independent characters generate, heat the story from the moment they meet.
Family – McCallister 1881
When one straight-laced spinster tenders her body to one cynical sometimes savage, the unexpected bounty is love.
Miss Naomi Parker, deportment instructor at the Sparrow Creek Young Ladies Academy, can't forgive herself for hiding during an outlaw attack. When the local sheriff refuses to pursue the gang of renegades who kidnapped her students, she decides to rescue the girls herself. But, she needs the help of the best tracker in the territory—half-Kiowa bounty hunter, Charlie Wolf McCallister.
Before he goes out on another bounty hunt, Charlie wants a long soak in a hot bath, a bottle of whiskey, and the pleasure of a woman's company. He has two out of three when a school marm with cornflower-blue eyes invades his privacy.
Having established that he only works for pay, Miss Parker offers Charlie one night of sexual favors in exchange for his tracking services. Though he knows bedding a white woman will cause all kinds of trouble, he operates on the philosophy that a bird in hand is better than no bird at all.
After they've sealed their bargain, Charlie tries to leave Naomi safely behind. But the opinionated teacher insists on accompanying him. She's impatient with his decisions, questions his authority, and generally ignores his warnings. But each time they make love, Naomi captures another piece of Charlie Wolf's heart.
Also includes a free copy of
Destiny's Dream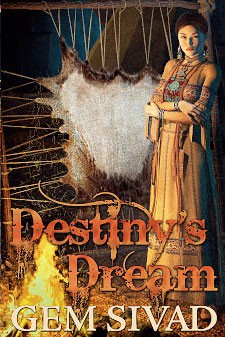 In 1866, three McCallister youths set out on a quest to find and spy on Lozen, the Apache warrior priestess. The seer has captured Charlie Wolf, the half-Kiowa McCallister's imagination and he's determined to share this adventure with his white cousins, Robert and Sam. The boys are half-grown striplings when they leave the McCallister ranch. After their encounter with destiny, they are men.
This short story is a non-erotic companion read to Wolf's Tender, Five Card Stud, and Trouble in Disguise. Prior familiarity with those books is not necessary.
Other Books in the Series: