Call Me Miz
Bitter Creek Holler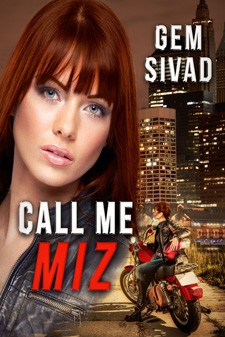 Ms. Sivad beautifully explores the growing love between Miz and Thomas while giving the reader enough action and suspense to keep the pages turning. -Candy,
Sensual Reads
I absolutely love the ending of this book. It is…unique…Gem Sivad provides the reader an adventure with action on every page. Call Me Miz is entertaining and well worth the read. -Delane,
Coffee Time Romance & More
…Thomas and Miz have instant chemistry that intensifies with a massage and an explosive foreplay session that has you gasping for air. The sex is hot, raunchy, animalistic and works…I wanted more. -L.T. Blue, Just Erotic Romance Reviews
Masseuse, hedge witch, healer… Although Missouri Hess can take pain and illness away with her touch, and pull truth from a liar every time, she considers her strange talents a curse. Being a healer is a lonely existence when the people you help, shun your truth-telling side. Nevertheless when misery calls, Miz is compelled to answer.
Thomas Hunter is a government agent and a member of an elite Special Forces team—emphasizing the word special. In human form, Thomas is a mouth-watering hunk of rippling muscles. Since he's in Bitter Creek Holler to meet the local werewolves, he's spending most of his time prowling the woods as a jaguar, ready to greet shifters in parlay or meet the enemy with fang and claw.
But Thomas doesn't know the area, or realize until too late, that he's become prey. When Miz rescues his furry form from a conibear trap, the beast in him claims her as his own. It's up to Thomas to work out the details and convince the bewitching healer she's his mate.
Other Books in the Series: