Miz Spelled
Bitter Creek Holler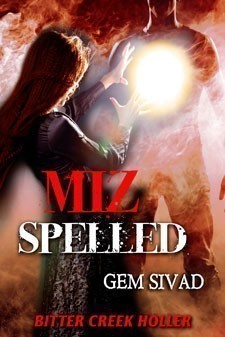 I fell instantly in love with Miz. I loved how independent she was and how she was willing to do what it takes to help those around her.
The storyline is wonderful and keeps the reader interested. Ms. Sivad's writing is an adventure all its own. Well worth a read or two since it will remain on my bookshelf.
Previously titled Hexual Healing and published by Ellora's Cave Publishing in their 2012 Hex Appeal Anthology. This story content has been refreshed and expanded for this release.
It takes all hell breaking loose in Washington DC for hedge witch Missouri Hess to leave her mountain retreat and join her lover in the nation's capital. Someone has unleashed a snake-eyes death hex against Thomas's boss, Shep Buchanan. And if the spell doesn't kill Shep, his own crew might.
Nothing in his military, shapeshifting, Special Forces background has prepared Thomas Hunter for the torture of jaguar mating-heat or the wrath of a furious witch. Though he's on a mission in DC, his beast wrests control, racing to the mate he's left behind.
After Thomas delivers his own brand of healing, Miz returns with him to duty. They've got forty-eight hours to figure out the twisted magic at work—and time is not on their side.
Other Books in the Series: