Quincy's Woman: The Journal of Lucy Quince
Eclipse Heat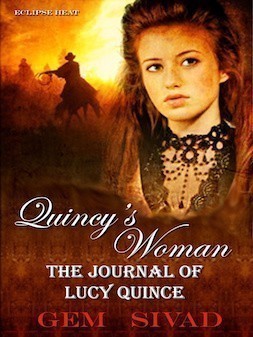 4 Cherries
The intimacy…was very erotic yet sensually done… I would absolutely recommend this story to fans of historical western romance. Dahlia,
Long and Short Reviews
5 Lips
…sweet and often hilarious…with some very hot scenes…If you're looking for a fun historical western…this is the book you want.
Rose, Two Lips Reviews
Family: Quince – 1866
Fresh from the post-Civil War salons and drawing rooms of Boston, Lucille McKenna considers herself a sophisticated young woman. But when she meets Texas rancher, Ambrose Quince, she turns into a flustered girl. He's too old, war roughened and unrefined–and she has no idea how to deal with the way he makes her feel.
Quincy falls fast and hard for the innocent debutante visiting Eclipse, Texas. Persuading Lucy to accept his pursuit is hard since he can't even justify his interest to himself. He has ranch chores waiting, and no time to be running to town to court a woman he has no business wanting. He knows Lucille McKenna was never meant for the likes of him,but he can't help himself. She's the only woman he'll ever want.
When tragedy strikes, Lucy accepts the gruff rancher's proposal, turning to him for solace and protection. Though their different backgrounds often cause angry disagreements, passion holds them together as they build enduring love.
Other Books in the Series: