Intimate Strangers
Eclipse Heat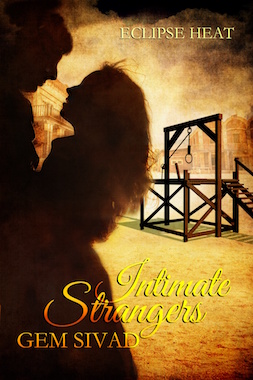 5 Spurs
…intriguing suspense, a sizzling hot romance, and an insightful exploration of the building blocks of marriage. Definitely a keeper to be read again and again. Carol,
Love Western Romances
Wow. Talk about an emotional roller coaster ride…grabs you by the heart and reels you in. Sweating over what was going to happen, I couldn't put it down. Gem Sivad… definitely has written an excellent and enchanting novel. Tahlia, Joyfully Reviewed
Rating: 89
…knocks me off my feet…the setting is great and I love how the author doesn't sugar coat how hard life can be back in those days… this is a most wonderful kind of serendipity.
Mrs. Giggles

Release Date- March 2016
ISBN- 9781419935244
Lucy and Ambrose Quince share fiery passion in and out of bed; they love hard but fight often, both having opinions and tempers. But Lucy mysteriously disappears in 1874, leaving the Double-Q ranch and all she loves behind. Three years later, scarred in mind and body, Lucy is drawn back to Eclipse and the life she's forgotten—including a snarling, lustful husband.
Although she claims she can't remember him, Ambrose hasn't forgotten a damned thing. Lucy left him and he owes her nothing. Trouble is—his heart remembers too, and Lucy's the only woman who'll ever own it.
Reader Advisory:This book contains adult sexual situations and violence
*This title was previously published elsewhere as Perfect Strangers.

Western Romance & Erotic Romance
Other Books in the Series: