Trouble in Disguise
Eclipse Heat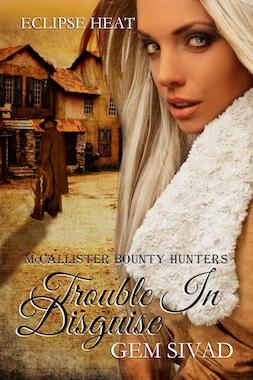 4.5 Stars …tantalizing tale, true historical attitudes, intriguing plot, sizzling romance…Gem Sivad is quickly becoming one of my favorite storytellers!
Family- McCallister 1884
Since both his partners have married and retired from the hunt, Deacon McCallister is alone when he visits the Pleasure Dome, an infamous brothel in Fort Worth's Hell's Half Acre. He's tracking a counterfeiter but what he finds is TROUBLE—dressed in a man's ruffled shirt and nothing more.
Bounty hunter Miracle Beauregard pretends to be male, calls herself Beau and for years has fooled the general public concerning her gender. But underneath Miri's disguise, beats a feminine heart in lust for Deacon McCallister. Though she spends a lot of time dreaming about her rival, she never expects to act upon her longings.
When Miri follows an outlaw to the fanciest whorehouse in Texas and crosses paths with her heart's desire, she trades her buckskins for bare skin to play the part of Deacon's paid companion.
Other Books in the Series: