Brrrrr…it's cold outside. Not a gradual cooling off, either; where I live, the temperature dropped from 82 degrees (F) on Thursday to 36 degrees last night.
I'm doing my part to heat things up this weekend with another snippet from Unlikely Gentlemen, Book 3, Acquisitions & Mergers. Continuing the opening scene but forward a bit from last week.
"Will there be anything else, Mr. Martin?"

"Summarize," he ordered, waving his hand at the ledger listing the merchandise currently in stock.

"Thirteen boxes of peaches, twelve crates of beans, four spindles for weaving, twenty-two sacks of grain, ten pounds of flour, dress goods in three sizes, marbles, pins, needles, thread, nails, crockery, a barrel of salt pork, three smoked hams, assorted dried fruits, sugar, molasses and rum."

Beth rattled off the inventory without turning to face him, then pointed at the section of the store that served as the local Post Office, and added, "The U.S. Mail arrives on the stage each Wednesday, and after letters and packages are sorted, they go in those boxes."

"Are you certain that's everything?" Bern asked, looming over her shoulder to peer at the account book, while, without actually touching her, caging her with his body.

When she said nothing, he turned his glance from the ledger to her, and his next question became a caress of warm air, brushing her cheek.  "Doesn't the store include an apartment above stairs?"

Beth nodded stiffly and stared at the counter instead of him.

The scent of his expensive cologne mingled with the aroma of delicious male, creating an intoxicating aphrodisiac when Bern leaned closer, and murmured, "Show me."
Synopsis: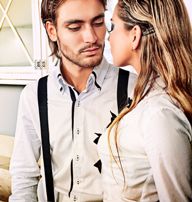 Bernard Frederick Martin III, wealthy scion and ruthless banker, is in Annona and that can only mean trouble for Elizabeth Harper. The wickedly handsome rogue was once Beth's boss. She doesn't want to leave her home and friends, but It's only a matter of time until he makes her pay for calling him names and bashing him over the head.
Bern was intent on learning the family business from the ground up until the charming bottom of a lowly bank-teller distracted him. After a calculated and skillful seduction, he proposed—that she become his mistress. The little witch threatened to slit his gullet (whatever the hell that meant), clubbed him with a bottle of his best champagne, and fled.
He's tracked the lovely widow to Texas, not sure once he's located her, how best to proceed.  But after catching a glimpse of Beth at the Annona Ice Cream Social, Bern's goal becomes clear—acquire and merge.
Unlikely Gentlemen Books 1, 2, and 2.5 Available Now:
River's Edge- http://amzn.to/1er2L5b
Outrageous Pride– http://amzn.to/1aWnfz6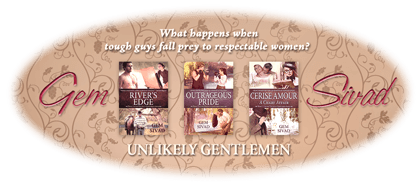 Find more Weekend Writing Warrior authors  here.
Have a great week!

gem