Hi everyone.  Whew, busy week. I had a plot problem I couldn't resolve, and retreated to the yard for manual labor and think time.  Soooo…the Halloween decorations are up, fall chrysanthemums planted, fish pond prepped for winter, pool closed down, and my rake and I are poised to do battle with the leaves already falling from the trees.
For this week's snippet, I'm posting another scene from Acquisitions  & Mergers, the reason my yard received all that attention.
The bell over the door still jangled from Cain's hasty exit as Bern's quarry, the lovely Elizabeth of the enchanting bottom, rounded on him and asked, "Why are you here, Mr. Martin?"

"Bern," he corrected her. "We didn't finish our last," he paused, letting his gaze caress her very fine mouth, and linger on her plump lower lip, before he added, "conversation."

"I disagree. I had nothing more to say, and what you said, I had no desire to hear."

Bern stepped closer, deliberately crowding her. "Odd—my memory of the occasion differs. From the sweet sounds of your pleasure at the time of our discourse, I would have said you quite enjoyed our little chat; were in fact, eager for more."
Synopsis: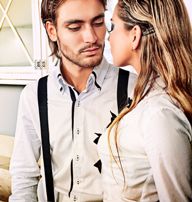 Bernard Frederick Martin III, wealthy scion and ruthless banker, is in Annona and that can only mean trouble for Elizabeth Harper. The wickedly handsome rogue was once Beth's boss. She doesn't want to leave her home and friends, but It's only a matter of time until he makes her pay for calling him names and bashing him over the head.
Bern was intent on learning the family business from the ground up until the charming bottom of a lowly bank-teller distracted him. After a calculated and skillful seduction, he proposed—that she become his mistress. The little witch threatened to slit his gullet (whatever the hell that meant), clubbed him with a bottle of his best champagne, and fled.
He's tracked the lovely widow to Texas, not sure once he's located her, how best to proceed.  But after catching a glimpse of Beth at the Annona Ice Cream Social, Bern's goal becomes clear—acquire and merge.
Unlikely Gentlemen Books 1, 2, and 2.5 Available Now:
River's Edge- http://amzn.to/1er2L5b
Outrageous Pride– http://amzn.to/1aWnfz6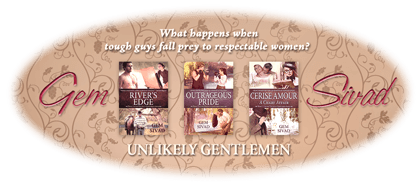 Find more Weekend Writing Warrior authors  here.
Have a great week!

gem