Hey everyone! I'm all set for fall…how about you? I always dread the end of summer, then I get a whiff of autumn spice in the air and my allegiance to sand, sun, and sea disappears. 🙂
Before I post another snippet I want to say thank you for all of the wonderful comments and feedback you've shared. Last week's fantastic reception of Acquisitions & Mergers  kept me walking on air. Thank you all again!
For this weekend, I'm posting another snippet from my Unlikely Gentlemen, Book 3 title, Acquisitions & Mergers. This time we're in Bern Martin's POV.
As Abel Cain led the way into the store, the bell above the door jangled, alerting the postmistress/clerk that she had a customer.

Bern sighted his quarry at the same moment she saw him. He'd rather hoped that up close, Elizabeth Harper would appear frazzled and faded so he could dismiss her from his mind. Instead, her beauty made his breath catch as his heart thrummed like a speeding freight train.

"Beth, I wanted to speak to you first, but Mr. Martin insisted on accompanying me today."  Bern heard regret and apology in Cain's voice and wondered about the store owner's relationship with his clerk.

As far as Bern was concerned, being part of the information exchange had been a deal-breaker; had the Annona businessman  refused to include him in the conversation, the offer for the Isaca property would have evaporated.

Satisfied that he'd accomplished part of his goal, Bern wasted no time examining the aisles of canned goods he now owned; he focused instead on one thing—Beth's expression when she learned he was once again her boss.
Synopsis: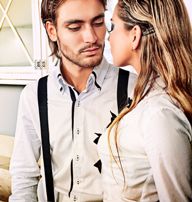 Bernard Frederick Martin III, wealthy scion and ruthless banker, is in Annona and that can only mean trouble for Elizabeth Harper. The wickedly handsome rogue was once Beth's boss. She doesn't want to leave her home and friends, but It's only a matter of time until he makes her pay for calling him names and bashing him over the head.
Bern was intent on learning the family business from the ground up until the charming bottom of a lowly bank-teller distracted him. After a calculated and skillful seduction, he proposed—that she become his mistress. The little witch threatened to slit his gullet (whatever the hell that meant), clubbed him with a bottle of his best champagne, and fled.
He's tracked the lovely widow to Texas, not sure once he's located her, how best to proceed.  But after catching a glimpse of Beth at the Annona Ice Cream Social, Bern's goal becomes clear—acquire and merge.
Unlikely Gentlemen Books 1, 2, and 2.5 Available Now:
River's Edge- http://amzn.to/1er2L5b
Outrageous Pride– http://amzn.to/1aWnfz6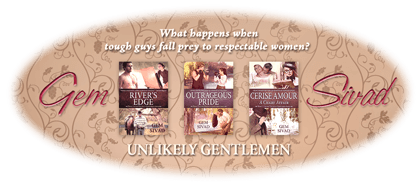 Find more Weekend Writing Warrior authors  here.
Have a great week!
gem