Hi everyone. I'm giving a big old WOOT, WOOT!  this weekend and posting from Cerise Amour, my Unlikely Gentlemen 2.5 title that released last Wednesday.
Jeb ducked into the tent, sweeping Cherry inside with him. He was tense, as anxious to stay with her as he was to leave.

"I'll be fine," she tried to reassure him, but tears filled her eyes and spilled over.

He thumbed one away; then, although he had no business doing it, he leaned closer and brushed his lips across hers. She didn't kiss him so much as cling to him, her arms going around his neck and her body pressing against his for support and comfort.

He walked her backward to the corner of the enclosed space. When her knees met the cot, she sat on the edge and pulled him down with her.

Jeb thought briefly that the makeshift bed was too narrow and might not hold their combined weight; and then he stopped thinking at all.

Blurb:

After a hasty Civil War marriage to Confederate soldier, Jeb Carter, Cherry Fitzwilliam finds herself abandoned among strangers;over the next twenty-five years she carefully constructs a life based on lies.

Her neighbors and daughter believe she's a widow who lost her husband in the war.  But Jeb is alive and prosperous and Cherry's one indulgence is a much anticipated monthly meeting with him that usually devolves into a shouting match. 

When Jeb Carter becomes ill, perhaps even dying, discord changes to despair and he asks her to be with him to the end. Avoiding the questions of family and friends, they leave Texas on a journey that takes them to a love they've long denied.
Unlikely Gentlemen Books 1, 2, and 2.5 Available Now:
River's Edge- http://amzn.to/1er2L5b
Outrageous Pride– http://amzn.to/1aWnfz6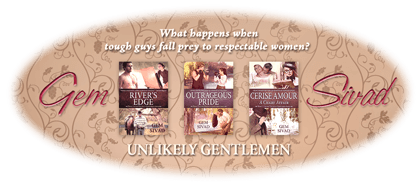 Find more Weekend Writing Warrior authors  here.
Have a great week!
gem