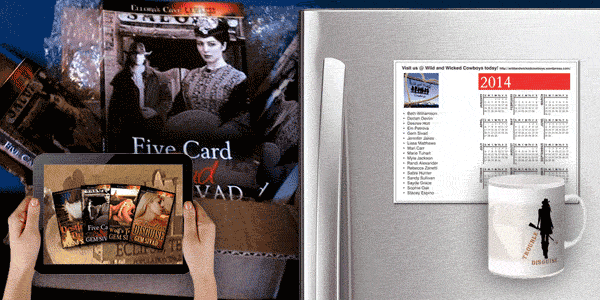 It's official. Random.org gave me names and I sorted through the wish list for each winner and assigned the following prizes.
2) Autographed print copies of my Eclipse Heat title- Five Card Stud
Lisa Guertin & Shelly Langley
(3 sets) Digital copies  of Eclipse Heat Bounty Hunter Trilogy =Five Card Stud, Wolf's Tender, Trouble In Disguise + Destiny's Dream (Free Read) (Does not include digital reading device pictured)
Lisa Cisneros ;  Wanda Hughes ; Romance Reader Enthusiast
(2) Wild and Wicked Cowboys Calendar Magnet
Crystal H.  &  Crystal B.
(2) Trouble In Disguise Mug
Debra Thomas & Tiss
I am in the process of contacting each winner now. The print copies, mugs, and magnets will be mailed as soon as I collect snail-mail addresses.
The eBook McCallister Trilogies will be emailed as soon as I collect format preferences.
Big thanks and hugs to all you wonderful peeps who stopped by my new site during my New Website Celebration!