Hey everyone! Wishing you a very spooky Halloween. I'm Gem Sivad, a paranormal/urban fantasy author, participating in the October 23-31 Wicked Reads Blog Hop. Click on the link to connect with more blog hopping authors.
I'm celebrating in Bitter Creek Holler this year, a place of Old Magic found in the Appalachian Mountains. In Bitter Creek Holler,  shifters and witches live uneasily side by side and all kinds of other worldly creatures venture forth during Samhain.
Click on the Rafflecopter link to play and win prizes.
I'm giving away some nifty treats to tricksters coming through.
Prizes pictured below.
A Bitter Creek Holler Rafflecopter Giveaway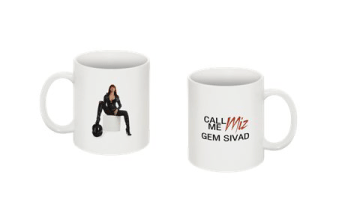 2) Handmade Pumpkin Crystal Ear Rings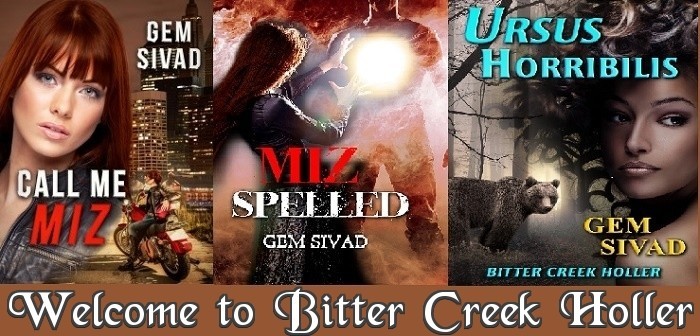 4) 2 sets- 3 Bitter Creek Holler titles
Blurb: While Rhee Hess is house-sitting in Bitter Creek Holler, waiting for her cousin Miz to return, she sees nothing wrong with earning a little extra cash. And who knows? Lending a helping hand to Shep Buchanan, the family's neighbor, might be Rhee's ticket to gold. From Rhee's point of view, he owes her anyway, since his recent odd behavior cost her a job.

Buchanan is a bear shifter. He's also a billionaire, a genius, and the head of a secret paranormal government agency. It wouldn't be good if either shifters or humans discovered Shep's brain is totally whacked. His bear, after years of ignoring females in general, suddenly declares he's found their mate. Before Shep can deal with that, he's attacked with a death hex spell and the grizzly takes charge.

Shep needs help and his new neighbor in Bitter Creek Holler, though a conniving, spirit-weaving witch, could be his key to getting his mind unscrambled and his senses back. Unfortunately, their relationship proves to be tense from the start.

Rhee to her grizzly client: "You're a billionaire bear. What you can't crush, you buy, and what you can't buy, you crush. In your world, real problems don't even exist…"

Shep to the spirit weaving witch: "You're a mouthy, mercenary, ball-busting witch. What the fuck do you know about problems? You just woo-woo them away…"

Shep's thousand pound alter ego weighing in on the issue. "Shut it. She's our mate."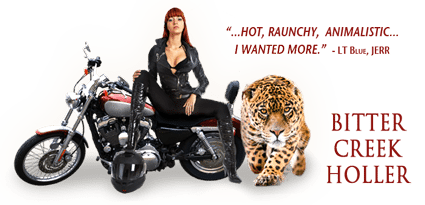 Call Me Miz,  Bitter Creek Holler, Book One
Available @
Blurb:

Masseuse, hedgewitch, healer… Although Missouri Hess can take pain and illness away with her touch, and pull truth from a liar every time, sheconsiders her strange talents a curse. Being a healer is a lonely existence when the people you help, shun your truth-telling side. Nevertheless when misery calls, Miz is compelled to answer.

Thomas Hunter is a government agent and a member of an elite Special Forces team—emphasizing the word special. In human form, Thomas is a mouth-watering hunk of rippling muscles. Since he's in Bitter Creek Holler to meet the local werewolves, he's spending most of his time prowling the woods as a jaguar, ready to greet shifters in parlay or meet the enemy with fang and claw.

But Thomas doesn't know the area, or realize until too late, that he's become prey. When Miz rescues his furry form from a conibear trap, the beast in him claims her as his own. It's up to Thomas to work out the details and convince the bewitching healer she's his mate.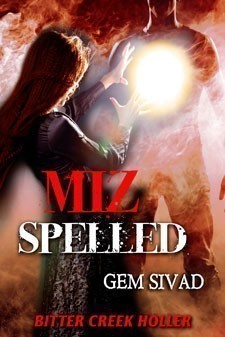 Miz Spelled. Available @
Amazon ; ARe ; B&N ; Google ; iTunes
Blurb: It takes all hell-breaking loose in Washington DC for hedge witch Missouri Hess to leave her mountain retreat and join her lover in the nation's capital. Someone has unleashed a snake-eyes death hex against Thomas's boss, Shep Buchanan. And if the spell doesn't kill Shep, his own crew might.

Nothing in his military, shapeshifting, Special Forces background has prepared Thomas Hunter for the torture of jaguar mating-heat or the wrath of a furious witch. Though he's on a mission in DC, his beast wrests control, racing to the mate he's left behind. After Thomas delivers his own brand of healing, Miz returns with him to duty. They've got forty-eight hours to figure out the twisted magic at work—and time is not on their side.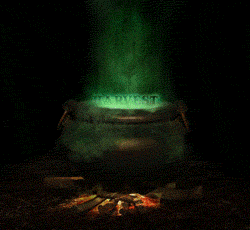 Happy Halloween, everyone!