Hi to everyone! And a special welcome to Sam Cheevers, with us today, talking about her new book, The Biggest Poser.
Passion in its Many Forms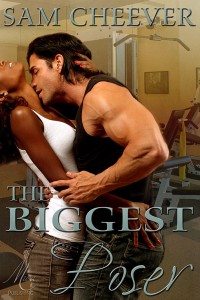 My newest release, The Biggest Poser, is based on a reality television show that makes losing weight into a contest between overweight people and their trainers. Like the real-life show it spoofs, The Biggest Poser is unpredictable, exciting, at times frustrating, and generally inspirational to those of us who constantly struggle with our weight. Unlike The Biggest Loser, however, the book is also about passion.
Passion isn't just about romance and sex, though that's certainly the focus of most romantic fiction. Many of us are also passionate about food. Some might call it an addiction. In a way it is. But since we can't give it up, we need it to live, and it's a rampantly social activity, I think it's too simplistic to put food into the addiction category.
In The Biggest Poser, contestants must learn to balance their passion for gastronomic delights with their wish to be healthier, stronger, and slimmer. It's a common battle in a society where food is everywhere. We see it all over the Internet and on television, hear about it on the radio, and view it on billboards and in the pages of magazines. We can't escape it. More importantly, those of us with a passion for great food don't want to escape it. We want to embrace that passion, without letting it overcome us.
That's really the struggle with any passion isn't it? To find the balance between enough and too much? The characters in The Biggest Poser, including the trainers, all struggle with it in their own way. But in the end it's their passion that allows them to find that balance, to conquer their tendency toward overdoing. In The Biggest Poser the road to health is hard, fraught with potholes big enough to eat an overweight man, but it's traveled with spirit, humor, and, yes, even a bit of ruthlessness. And in the end, each person makes his or her own choices and achieves his or her own level of success.
You can't ask for more than that!
BLURB
Cover attached to email
May the biggest liar win. Or die trying!
Personal trainer for the ever popular, Lose it! reality show, Jillie Maxwell is up for the most important award of her career. And she's competing against the biggest b-eye-itch she's ever met. Fortunately for her, she has the sexiest man alive in her corner. Problem is, each and every one of them has a dirty little secret that could tank a career.
For the contestants, the race is on to lose the most weight and win everything. For the staff of the popular weight loss show, the clock is ticking to the culmination of their lies and the possibility of losing it all.
Will the Biggest Poser win? Or will the lies just grow and grow until they sink the whole show? Only one thing is certain. Whatever happens, it's gonna be an entertaining ride!
EXCERPT
Her bee stung lips were a delicious dark pink. They looked exquisitely soft, the bottom lip just ever so slightly fuller than the top. A speck of moist pastry sat in the soft crease at the center of that lip.
She had a tiny overbite that Brandt found infinitely charming and her heart-shaped face was flawless, with smooth skin and delicate features. A blush of soft color highlighted her creamy brown cheeks as she flushed with pleasure.
Brandt's traitorous thoughts formed a picture of her lying beneath him, her bouncy black curls spread charmingly over the pillow as her skin flushed from his sensual attentions.
He wanted to bend down and lick that speck off her lip in the worst way. His heart rate spiked under the need. He squirmed against the counter, fearful that he would be unable to move out from behind it without embarrassing himself.
She focused her dark gaze on him and Brandt swallowed hard. He thought his jeans might cut him in half.
"Oh, my God! Brandt! This is exquisite! You have to give me your recipe."
He shook his head and gave in to the temptation to touch her, reaching a finger toward her lip to gather up the speck of pastry. "It's a trade secret. You'll just have to come to me when you want some." He pressed gently on those exquisite lips with his finger and she opened them, allowing him into velvet heat.
Her soft pink tongue swept over the pad of his finger, pulling the tidbit off and bathing it in sensual heat. Brandt groaned as she sucked the lucky digit, and he stepped around the island, reaching to wrap an arm around her tiny waist and pull her close.
She gasped as he dragged her up against the hard ridge of flesh beneath his jeans and he pulled his finger from her mouth, dipping his head toward hers.
Jillie lifted onto her toes and met him partway, her slender arms sliding around his neck to pull him close.
Brandt deepened the kiss, pulling her off her feet and holding her tight as their tongues slipped and tangled against each other.
Her small hands sifted through his hair, tickling his scalp. Brandt's lungs filled with her sweet citrus smell, drawing her into his cells. His body swelled and hardened with need. His senses exploded.
Groaning against her lips, Brandt took a step forward and settled her butt on the countertop so he could press his aching flesh between her slim thighs.
Jillie gasped and her calves came around his hips, creating a delightful pressure in the contact points between their bodies. He slid his hands downward to encompass her firm buttocks. She dragged her mouth from his and pushed against his chest.
"No! We need to stop. This is crazy."
Brandt allowed himself to be pushed away and stepped back, scrubbing a hand down his face. After a moment, he offered her his hand so she could jump down off the island. "You're right. I'm sorry. I got carried away."
She swiped a shaky hand over swollen lips and shook her head. "I was just as much to blame as you were. But it can't happen again."
Disappointment swamped him. "I agree. It was a mistake. I promise I won't initiate anything physical again."
Brandt sighed, feeling terrible for his part in what had happened between them. He knew how hard Jillie worked to succeed in her career. He knew because he'd been doing the same thing, trying to build his notoriety enough so he could open his own restaurant. He was threatening both of their dreams just because he couldn't keep his libido in check.
He'd been stupid. He would be lucky if she didn't get him fired from the show.
With a heavy heart, Brandt turned back to the task at hand, sliding coins into fat strawberries and juicy chunks of melon. He'd have to go out of his way to avoid being alone with Jillie from that point on.
He didn't trust himself not to touch her again if he ever had the chance.
AUTHOR BIO

​Sam's published work includes 50+ books of romantic suspense and fantasy/paranormal. Her books have won the Dream Realm Award for fantasy and The Swirl (interracial romance) Award. They've been nominated for and/or won several CAPAs, have been nominated multiple years for "Best of" with LRC and The Romance Reviews, and have won eCataromance's Reviewer's Choice award. Sam is published with Musa Publishing, Changeling Press; and Ellora's Cave. She also publishes as Declan Sands, writing m/m fiction, and under her own imprint, Electric Prose Publications.
In real life, Sam lives in a cabin in the woods with 13 dogs and one husband. A self-proclaimed dog-aholic, Sam insists she's holding at 13…maybe…
Website | Facebook | Twitter | Goodreads | Blog | About.Me | Amazon Author Page