Hey, out there! Em Petrova is here, sharing her latest hot cowboy(s) book today.  I'll let Em take over now. (All I can say is keep a fan and a glass of ice water by your side when you're reading any of Em's stories.)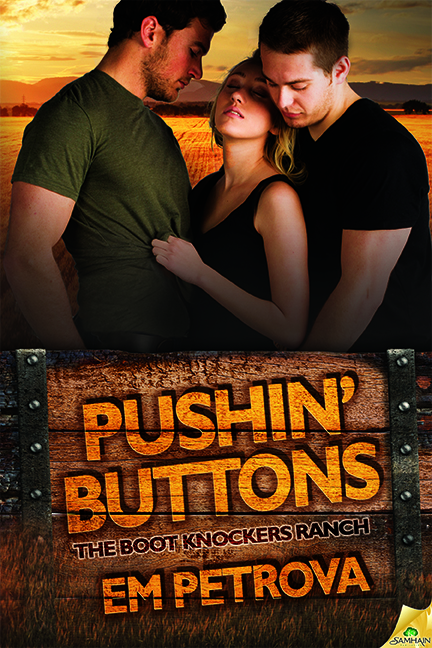 The Boot Knockers Ranch is a sex ranch in Texas. Yessiree, it's a place where women go to find fulfillment or to overcome sexual troubles. No girl leaves unhappy, because these cowboys know what they're doing!
Top Things to Do with a Boot Knocker

Here are a few fun things they will do to entertain you OUTSIDE the bungalow:

Cornhole Tournament—I'm sure you're envisioning sexy cowboys tossing corn cobs at a wooden slab with a hole to score for their team, but the tournament involves alcohol—and usually very little clothes.
ATV Mud Racing—picture twenty ATVs ripping up a field. Now add a rough cowboy covered in mud from head to boot. And you get to be holding onto his waist! Mmm Mmm Mmm
Bootscootin'—these cowboys know how to tear up a dance floor. They will whisk a girl off her feet—literally
Flag Football—Not only will you be watching gorgeous men catching and passing balls, but you will see these guys do it in their underwear. Boxers, briefs, and yes, an occasional bare…
BDSM Munch—An event where the masters of BDSM showcase their talents and invite the ladies to come onstage and have a taste of the Lifestyle. Featuring the Dom from Down Under, Stowe and a lot of whip action
Rodeo—the grand finale of your stay at the ranch. Many of these cowboys have rodeo in their blood and the buckles to prove it. Ropin', ridin', and even some ass-less chaps

Now who wants to book a trip?
Pushin' Buttons Available now @
[vc_row][vc_column width="1/2″][vc_column_text]

Amazon

Samhain
[/vc_column_text][/vc_column][vc_column width="1/2″][vc_column_text]

Barnes & Noble

All Romance eBooks
[/vc_column_text][/vc_column][/vc_row]
Also check out my hot new biker book, LOVE TIES. http://empetrova.com
Thank you for reading! I'd love to hear from you.
Em Petrova
~hardworking heroes—in bed and out~
http://hardworkingheroes.wordpress.com
https://www.facebook.com/empetrovahardworkingheroes