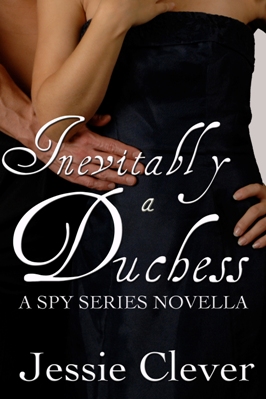 Thank you for welcoming me on the blog today to celebrate the release of the latest installment in my Spy Series, Inevitably a Duchess: A Spy Series Novella.
Blurb for Inevitably a Duchess:
It's November 1792, and England is gripped in a maelstrom of radical speak.  With revolutions in America and France, the political scene is ripe for an explosion.  Richard Black, the Duke of Lofton, spy for the War Office, is assigned to follow a body snatching ring of ressurectionists for revolutionist intentions.  But although he may be the spy, it's his lover, Lady Jane Haven, who unravels the most important part of the mystery.  While she may be good at spying, her curious ways put both of them in danger.  Will Jane find the strength to save them both and inevitably be Richard's duchess?
Excerpt:

"They snatch a body nearly every night," he said.

"And that is unusual?"

Richard nodded.

"Most body snatchers have a concern for discovery and only operate on certain nights during a given period.  Although, some gangs have come to appreciate the influence of those that may save them from punishment for their consequences, there are still more bands that do not have the fortunate circumstances of having such aid.  It is one of those bands that the War Office began to monitor some weeks ago."

"What is it that is suspicious about their activity other than its frequency?"

"They are securing a large sum of money for their wares that is unaccounted for."

Jane adjusted as the carriage made a turn, and Richard gripped his bench tighter.

"This gang of ressurectionists are making a substantial amount of money from digging up dead bodies from graveyards and selling said dead bodies to medical schools?"

"Yes," Richard said with a nod.

"So what is this group doing with the money?"

Richard smiled.

"That is precisely the question the War Office is asking, my lady," Richard said.  "Are you sure you have no desire to pursue an intelligence profession?"

Jane rolled her eyes at him.  He saw the movement even in the near dark.

"Do not be absurd, Your Grace.  Perhaps they are sending the money to help compatriots in France or something."

Richard shook his head.

"There is no evidence of international transactions.  The money seems to simply disappear."

It was Jane's turn to frown.

"Money cannot simply disappear, Richard.  There must be someone behind it."

He nodded as he looked out of the window.  They were approaching the theater, and the carriage slowed to accommodate the sudden increase in traffic.  He looked again at Jane, marking the delicate outline of her pale face in the dark, the whites of her eyes flashing even as their unreadable depths melted away into nothing.  His mind raced over their current conversation, and he marveled at what an unlikely topic they had taken up.

He knew very well that it was not any woman who would not only love his sons as much as he did but who could also follow and add to a conversation that involved dead bodies and illegal monetary exchanges.  As Richard had plainly seen in his marriage to Emily, some women had heart, and other women had intelligence.  It was remarkable to find a woman who had both, and he had found it in Jane.  But what that would mean was yet to be seen.

"That is precisely what has attracted the attention of the War Office."

The carriage stopped in front of the theater, and Richard heard the tiger jump from his perch.  He moved to open the door, handing Jane down to the waiting servant.

A steady stream of elegantly dressed ladies and fashionably coifed gentleman already moved into the theater, and it was then that Richard realized he had not asked Jane what they were seeing.  He gripped Jane's hand in his as they made their way toward the entrance.

"My lady, it appears I have forgotten what it is that we are to see this evening," he said, squeezing Jane's hand in his.

He looked over to her in time to see the small smile on her lips.

"That is because I did not tell you what it was we are seeing," she replied, and he thought for an instant, she was fighting a laugh.

He felt a prickle of awareness run up the back of his neck.  He wanted to reach up and swat it away as if it were a physical thing.

"It is not-"

"It is actually," Jane said, turning her face up to him in a broad smile.

He let her hand slip from his in a move of utter defeat.

"Again?  Isn't there another opera they would care to perform this season?"

Jane smiled radiantly up at him.

"You know as well as I that Monsieur Devereaux's portrayal of Tamino is all the rage this season, and it is only fashionable that we should attend another performance."

"We've already attended two," Richard said, trying not at all to hide his exasperation.

Jane only smiled.

"Perhaps one day you will better handle your social responsibilities."

"If anyone had told me regular opera attendance would be demanded of a duke, I would have passed on the title long ago," he grumbled, moving to take her hand in his once more as they moved with the stream of people.

"And I would ask that you not fall asleep this time," Jane murmured quietly.

He looked down at her blinking.

"I did not fall asleep-"

"You snored," she whispered, "And it drew the attention of nearly everyone in the theater."

Richard straightened and looked at the ladies and gentlemen moving in front of him.

"Well, then perhaps people found me more entertaining than Devereaux's Tamino."

"Perhaps," was all Jane said as they entered the theater.
Purchase from:
Amazon US  |  Amazon UK  |  Nook  |  All Romance eBooks  |  Kobo  |  Smashwords
About the author:

In the second grade, Jessie began a story about a duck and a lost ring.  Two harrowing pages of wide ruled notebook paper later, the ring was found.  And Jessie has been writing ever since.
Armed with the firm belief that women in the Regency era could be truly awesome heroines, Jessie began telling their stories in her Spy Series, a thrilling ride in historical espionage that showcases human faults and triumphs and most importantly, love.
Jessie makes her home in the great state of New Hampshire where she lives with her husband and a very opinionated Basset Hound.  For more, visit jessieclever.com.