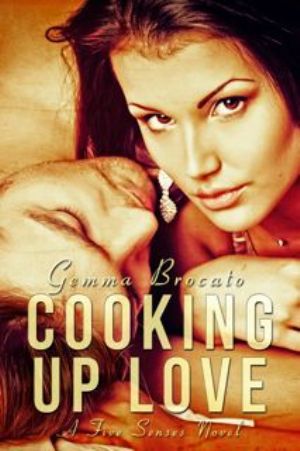 Gem, thanks so much for having me here today. I'm so happy to share Cooking Up Love with you and your readers.
My characters, Jem and Jack first trusted me with their story in the winter of 2011. Jack introduced me not only to Jem, but to his brothers, sister and Granite Pointe, his hometown. He also pointed out Grant, an attorney who looks like an aging romance novel cover model. Jem loves the exciting, fulfilling life she's been living in New York. But thanks to Grant's question on the day of her Aunt's funeral, and Jack's delicious persuasion, she begins to rethink the course of her life. Some of the things that happened in the story were as much as a surprise for me as they were for my characters.
What wasn't surprising was that Jack's sister, Pippa, starting demanding her own story halfway through writing Jack's. The idea of a series based on the five senses was born. Jack's story is based on taste, and Pippa's is about sound. Her story will be released in Spring 2014 through Lyrical Press. My current work in progress, based on sight, is Sam's story, Jack's charming younger brother. I've had Noah's story rambling around in my brain since before Jack told me his story. Unfortunately, the oldest Kerrigan son's story will be last in the series. But it will be a beauty based on touch. His is the only installment not based in Granite Pointe.
I've really enjoyed creating the world of Granite Pointe, the Kerrigans and the people who love them. I hope you'll enjoy reading all about them.
Thanks again for having me.
Blurb
Jemima George leads a charmed life as a personal chef and assistant to reality television's latest darling. But that changes in a New York minute when her Aunt Caro dies under odd circumstances, bequeathing her a small restaurant. Jem plans to sell the café and continue her life in NYC, until a dramatic phone call from her cheating boyfriend convinces her to experiment with the ingredients for happiness and accept her Aunt's legacy. Throwing herself into remodeling the restaurant with the help of the town's delicious contractor, Jem revamps the menu and renews her faith in herself.
Jack Kerrigan considered Caro a surrogate mother and hates the idea that the café could be sold. He doesn't need the remodeling project, but if it means Caro's beautiful, fascinating niece will stay to run the restaurant, he's all in. He wouldn't mind being savory to Jem's sweet.
Jack's brassy ex-wife is cooking up a scheme of her own, where Jack tosses Jem like a salad and comes back to her. Fold in a creepy attorney hiding secrets of environmental mayhem, add Jem's claustrophobia, half-pint niece and nephew twins, one mysterious lockbox, and bring to a boil–a recipe for romance.
A Lyrical Press Contemporary Romance
Excerpt From Cooking Up Love

Jack smiled sadly and shifted on the hard rock. "That's when I really got to know Caroline. She gave me a job and helped me figure out up from down. I'm ashamed to say I sort of lost myself in the bottle. Knowing how much I'd disappoint Caroline if I didn't show up to work the breakfast shift kept me from drinking until dawn. My dad's a patient man, but after putting me to bed drunk a few times, he got fed up. So the next time it happened, he poured me a strong cup of coffee, shoved me in the car and brought me here. He marched me down the pier and pointed toward the sunrise."

Jack lost himself in thoughts of a long ago morning, as Jem stared at the horizon, waiting for him to go on.

"Dad doesn't talk much. It's just his way. He shocked me that morning by stringing a whole lot of words together. Said his heart was breaking for me. What I was going through was breaking my mother's heart, too. He told me it was time to move on with my life, not stay buried in what I couldn't change. Dad told me each sunrise offers a new promise. As bad as yesterday was, there's new opportunity, new hope every day. He told me I was the only roadblock to happiness. I shouldn't let Tessa destroy my essence. Yep, my dad talked about my essence." Jack chuckled; the memory of the moment still amazed him. "Said I deserved more than the next guy to wallow in the misery. But I'd be better off accepting the new chance each dawning sun provided."

He turned to face Jem and put his finger under her chin, turning her face his direction. Cupping his hand over her cheek, he rubbed his thumb along the smooth skin he found there. He prayed she'd lift her head enough to let him press a kiss to her lips, but she remained still, her eyes searching his. "That sun, right there, is your new opportunity. If you stay unhappy for a few days, or even years, it's okay. Tomorrow, and every day after, the sun will come back with the same offer. And one day, you'll be ready to accept it."

He dropped his hand to her shoulder and scooted closer to her, easing his arm around her. Jem didn't shift away from him, but didn't lean into his solid warmth, either. Her sigh was audible as she turned her face back toward the brilliant orange globe on the horizon. Side by side, they watched the new sun rising over the water, brightening the day first with a rosy glow, then a fiery glare that made them squint. Bathed in an otherworldly glow, Clooney played in the surf as the rising sun painted vivid colors on the sea and sky.

"Thank you," Jem said softly as Clooney finally wore himself out and trotted back to Jack's side.

Jack rubbed his hands across the dog's wet coat, slicking water off his back. "You're welcome."

About Gemma Brocato
Gemma's favorite desk accessories for many years were a circular wooden token, better known as a 'round tuit,' and a fortune from a fortune cookie that said she was a lover of words; some day she'd write a book. All it took was a transfer to the United Kingdom, the lovely English springtime, and a huge dose of homesickness to write her first novel. Once it was completed and sent off with a kiss even the rejections, addressed to 'Dear Author', were gratifying.
After returning to America, she spent a number of years as a copywriter, dedicating her skills to making insurance and the agents who sell them sound sexy. Eventually, her full-time job as a writer interfered with her desire to be a writer full-time and she left the world of financial products behind to pursue an avocation as a romance author.
Her gamble paid off when she was a 2012 Finalist in the prestigious Golden Pen contest for Romantic Suspense and she received contracts for her first and second book.
Connect with Gemma on Facebook, https://www.facebook.com/gemma.brocato, Twitter, @gemmabrocato or on the web at www.Gemmabrocato.com
Buy Links
Amazon http://www.amazon.com/Cooking-Up-Love-Gemma-Brocato-ebook/dp/B00G36CD0K/
Kobo  http://store.kobobooks.com/en-US/ebook/cooking-up-love-3
Barnes and Noble  http://www.barnesandnoble.com/w/cooking-up-love-gemma-brocato/1117213296
iTunes  https://itunes.apple.com/us/book/cooking-up-love/id688219548?mt=11