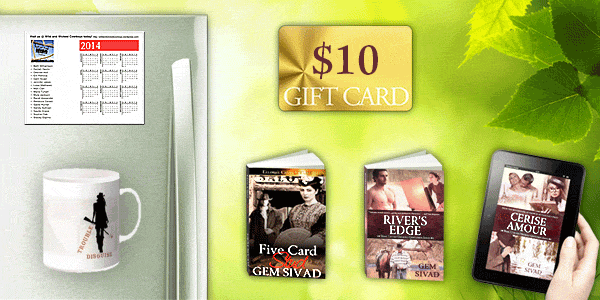 Hey everyone. As well as seeing the names of many enthusiastic fans in the contest, I've found a bunch of great new friends. I'm working my way through the list of awardees and sending emails out now.
Drum roll…

Winners  from my Spring Cleaning Contest Rafflecopter event:
Michelle G
$10 Gift Card (Choice of Amazon or Barnes & Noble)
Denise  S
Wild & Wicked Cowboys Magnetic calendar 
Ava C
Eclipse Heat Mug
MonaLisa S
Author signed print copy of Five Card Stud
Ami E
Author signed print copy of River's Edge
Clare O
Choice of one digital title from my backlist
LorettaLynn
ARC (advanced reader's copy) of Cerise Amour 
Siobhan Muir
An Eclipse Heat mug, because you want one &
 you're a great author and friend! 

Next Dreamcatcher eZine coming in time for fireworks on the Fourth of July!
Thanks to everyone who entered for all of your support.