Hi everyone. I'm taking a break from the Old West this week to share a snippet from my current wip which is a contemporary romantic suspense. I'm working in first person POV in this series (Smoke, Inc.) and it's a nice change-up from my third person voice in the Eclipse Heat books.
Find more Weekend Writing Warriors  here.
And check here for  Snippet Sunday Facebook writers.
Creative punctuation to get this scene in ten. No cover, working title, Rhythm.
"I'm Marty Jones; let's get this show on the road," my dance partner growled his introduction and reached for me, frowning down as if I'd kept him waiting.

"I've been ready for an hour," I answered turning my back on him to dance solo, leaving him to figure out how to follow. My partners until now had been shorter than me so I always navigated.

"I'm boss," Marty disagreed.

Suddenly, his long legs framed my long legs, his big thighs  plastered to the back of mine, and his hand moved from where he'd placed it on my hip to my stomach.  He surrounded me with his body, demonstrating his authority as he pressed me backward against his massive frame.

He rocked left, my body followed; he rocked right…yeah, you get the picture; he was stronger than me and had me locked in place.

"Okay, tutorial over," I muttered.

"Ready?" he murmured in my ear right before he snapped me out, unfurling me like a ribbon at the end of his arm. When he pulled me back, I wasn't prepared for the lift and toss; before he caught me, I'd shrieked louder than Little Richard screaming Good Golly Miss Molly.
©Gem Sivad 2016





Hi everyone. We're again experiencing a heat wave and I've got to be honest, I've spent most of the week playing in the swimming pool. It's too hot to think, lol.
I'm posting the last snippet from Breed True, Eclipse Heat #7 which will release on  August 16th (Tuesday).
Find more Weekend Writing Warriors  here.
And check here for  Snippet Sunday Facebook writers.
As Julie looked down at the red-colored animals browsing in the feedlot below, Grady put two fingers to his mouth and emitted an earsplitting whistle.

One red head came up and a fierce-looking bull trotted to the edge of the corral and stood, nostrils distended, scenting the air. Then he pawed the dirt, lifted his head and blew through his nostrils, issuing his challenge.

"That's Pretty Boy, brought all the way from New Hampshire by my father. I'm carrying on his breeding plans; these Herefords will change ranching for sure."

As Julie listened, Grady enthusiastically  described the red-coated beasts below.

"Dad saw this breed when he was a boy in the Old Country and predicted that being a hardy stock, they'd do well here."

"The Old Country?" It was odd hearing a man who looked so much a part of this land, speak knowledgeably about such a faraway place.

"Scotland," he said and added, "I'm Scots-Kiowa, a mix of the two mightiest warrior-people God put on earth."

 ©Gem Sivad 2016
Breed True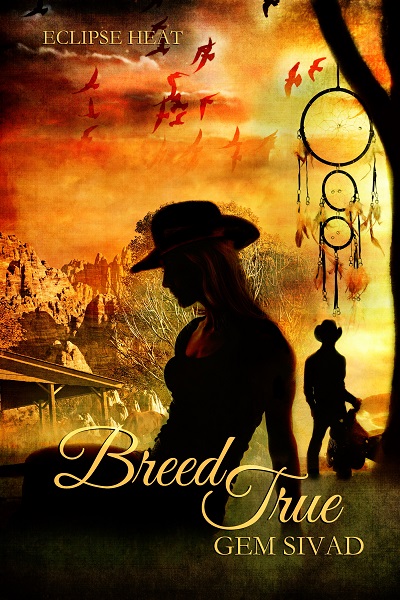 Desperate to give her twin daughters a decent life, Julie Fulton agrees to marry Grady Hawks and produce the son he needs to inherit Hawks Nest ranch. At the end of a year, child or not, Julie will receive enough money to escape to San Francisco and leave behind her rough existence.
Grady intends to breed back to the fair skin and Scottish features of his father and Julie meets every requirement. Her red hair and pale skin are an excellent way to dilute Grady's half Kiowa blood. If Julie breeds true, their child will prove that the Hawks family is "white" enough to own Texas land.
The formula is right, but the outcome unexpected. Siring a son is the last thing on Grady's mind when he discovers pleasure in Julie's bed. And San Francisco no longer seems like paradise to Julie when she finds heaven in Grady's arms.