Hi everyone. It's WVSU (West Virginia State University) Homecoming Weekend and we live very close to campus. Friends stopped  last night, more will be tail-gating before the game, and we hope to have lots more come by to say hello this afternoon and stay for our fall bonfire tonight. Hope your weekend is as filled as mine with old friends and laughter. 🙂
Find more Weekend Writing Warriors  here.
And check here for  Snippet Sunday Facebook writers.
I'm sharing another snippet from Eclipse Heat #8, Whispering Grace. Excuse the creative punctuation. I really wanted to share the whole scene.
Dan draped the heavy cloth around her shoulders, but instead of dropping the ends and stepping away, he asked, "Will you share your blanket with me?"
"Of course not," Grace muttered, her euphoric happiness from moments before, evaporating.

She expected him to tuck the blanket more securely around her, step back and say, "I'll ask again in a year and a day, but you can always come to me before then."

As ridiculous as his proposal had  seemed four years before, he'd spent the following year showing no more than genuine friendship toward her, so she'd been particularly disconcerted when three years ago,  he'd repeated his proposal as promised.

She'd said "no" of course; and as before, he'd pledged to renew his request. Last year when he'd asked, she'd rather forcefully declined and thrown the blanket at him. As solid as their friendship felt, each time the anniversary of his first proposal rolled around, Grace tensed for battle.

"And don't say you'll ask again in a year because I won't ever share a blanket with any man and I wish you'd stop…"

"You are safe with me, Grace," Dan murmured, moving closer, catching the ends of the blanket hanging loose by her fingertips, using the ends to draw her to him.

Even though his nearness wrapped her in heat, Grace shivered as he brushed his lips across hers and whispered, "Trust me, Sayen."

©Gem Sivad 2016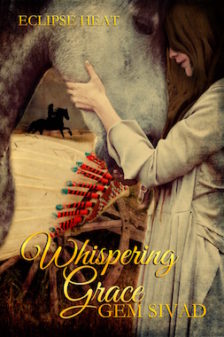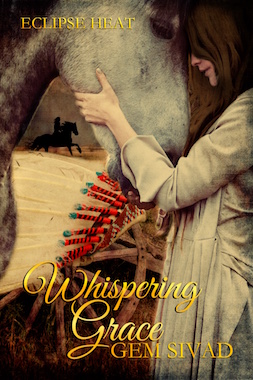 Whispering Grace Available for pre-buy now: http://amzn.to/2cG48k5


Hi everyone. The time machine just returned me from 1880'sTexas where I've been since January.  Whew, what a ride! The final book (this year) in the Eclipse Heat series, Whispering Grace, comes out October 25th. WG's currently available for pre-buy at Amazon @ 99¢.  Once it publishes, the price will change to $3.99. For those who don't want to buy but might want to read, it will also be in the Kindle Unlimited program.
Find more Weekend Writing Warriors  here.
And check here for  Snippet Sunday Facebook writers.
From Whispering Grace, Eclipse Heat #8 (Creative punctuation used for scene completion.)
Grace tensed. Her seat under the apple tree provided a balcony view of the solitary man using only his voice in the ongoing battle below. His opponent, a Palouse stallion, bared its teeth and flattened its ears, telegraphing savage intent as it raced toward the middle of the corral where Dan Hawks crouched.

Grace knew the horse  trainer because he was her landlord and employer. Some said he magicked animals, whispering mysterious words at them until they submitted to his rule. At the moment, Dan remained completely still in the middle of the corral as the appaloosa plowed to a halt less than two feet away, spraying dust and dirt over him.
Sweat made the gray dapples scattered on the horse's rump gleam like silver coins.The magnificent beast shifted its weight, and with the supple elegance of a snake, stretched its neck and opened its jaws, ready to strike.

Dan made a harsh sound, a guttural rebuke in his Apache dialect. Grace didn't understand the sharp command, but the stallion veered away, racing to the other side of the paddock, its tail a waving banner of defiance.

Whispering Grace ©Gem Sivad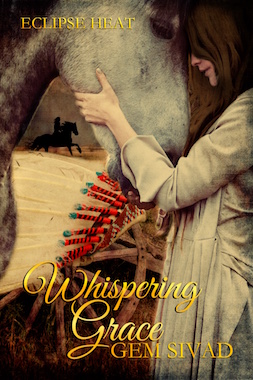 (Blurb in progress) Dr. Elizabeth Grace Souter agrees to set up practice in Texas after exchanging letters with Mrs. Lucille Quince for more than a year. Mrs. Quince, the representative of the Eclipse Town Council, assures Grace that a scarcity of doctors in that part of the state, guarantees even a female physician will be welcome.
Armed with knowledge about the area, Grace expects to encounter hardships, and anticipates no problems meeting the challenges. She knows herself to be resourceful, steadfast, and calm. But no amount of research prepared her for being kidnapped by renegade Apache before reaching her destination.
Using stealth and trickery, horse trainer Dan Hawks, riding with Deacon, Sam, and Charlie Wolf McCallister, rescue the lady doctor from her Indian captors. As she keeps her wits about her, aiding in her own escape, Dan recognizes the heart of a warrior in the injured woman.
Grace doesn't complain when things don't work out for her at Fort Stockton. Nor does she whine when the town of Eclipse hires a man instead of waiting for her to arrive. Instead, she accepts a job on Hawks Nest Ranch caring for Dan's Palouse mares.
But, though Grace grows healthy in body, Dan knows her mind and spirit are scarred. As she uses her medical skills to save the abused Palouse horses, Dan whispers her with his magic, helping her gather her splintered soul, healing her with his love.
Available for pre-buy now: http://amzn.to/2cG48k5

Thanks for stopping by,
______________________